SMON
The SNMP based Monitoring (SMON) project was initiated for the monitoring of Mission Control Systems, typically located at ESOC (European Space Operations Center, Darmstadt, Germany) as well as for Ground Station equipment, located in the geographically distributed ESA Ground Stations.
Ground segment applications need constant monitoring to ensure that their functionality is available at all times. As a consequence, both the centralized control applications - such as the Mission Control Systems or MCS systems - and the remote devices, equipment, systems and applications, located in the Ground Stations have to be monitored in a continuous and real-time way.
Due to the rather large variety of equipment and applications, the use of a standard monitoring protocol is essential in the realization of an efficient and reliable monitoring and control infrastructure.
For instance, the use of SNMPv3, now a full Internet standard, offers new possibilities for the integration of the monitoring and control of the MCS and of Ground Stations with industry standard monitoring and management tools, already well known for network and system management.
The SMON software consists of the HP OpenView Network Node Manager platform, on which dedicated management functions have been integrated.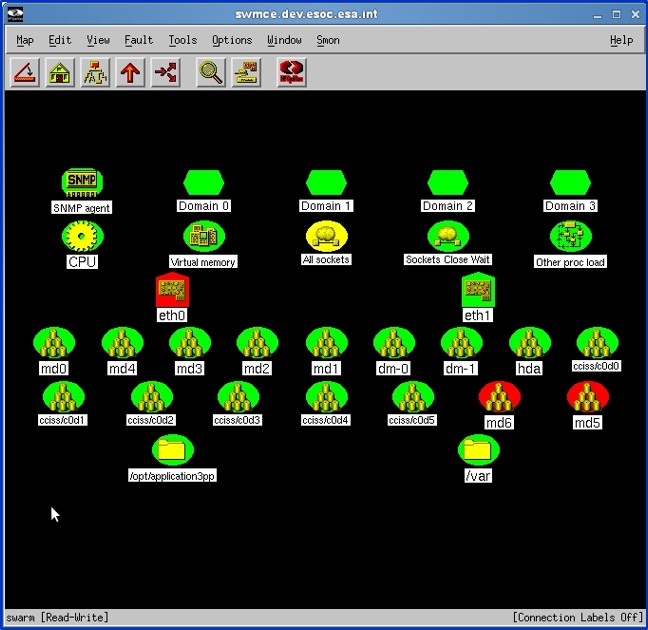 A dedicated SNMP Agent has been developed, in order to support the Management Application in the monitoring and the control of specific Mission Control Functions.
Another dedicated application has been developed for the monitoring of Missions Control software, such as the SCOS applications (Spacecraft Control and Operation System), used during the LEOP (Launch and Early Orbit phase) phase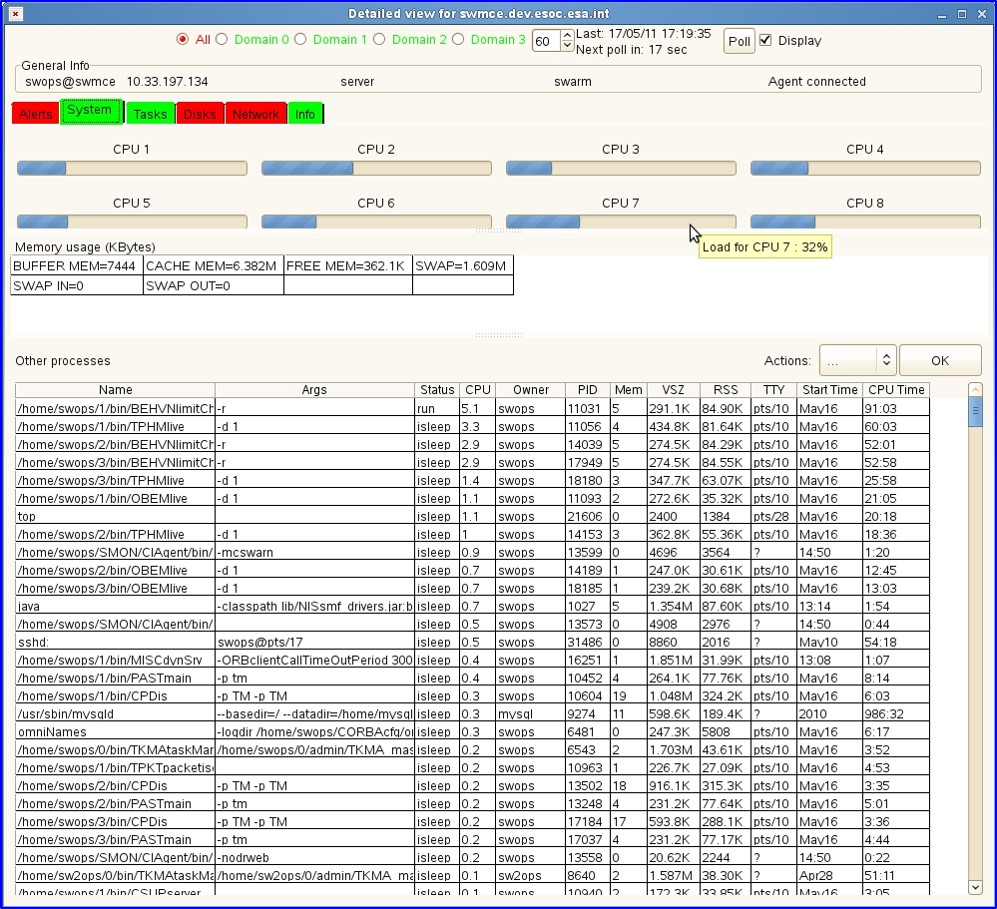 This monitoring application traces software components behaviour in real-time, and generated alerts in case of software anomalies.
SMON used for launch of the SWARM satellites at the Control Center of ESA
After 5 years of development, verification, validation and testing, the SMON software has been used during the launch of the SWARM satellites, last November 22 2013. The SMON applications were used during the launch in the Main Control Room and in the Software Support Rooms at ESOC (Darmstadt, Germany), the Control Center of ESA.